iE Student Lukas Grimberg from Austria enjoyed every moment of his 5 month exchange at Bakersfield Christian High School, a place he was surprised to find he quickly felt at home!
As an athletic student, Lukas thrived as part of both the tennis and soccer teams.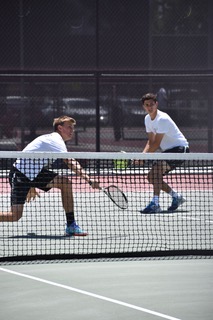 "I think sports will always play an important role for me, and that was really true of my time as an exchange student. Because of sports, I had no problems making friends."
Lukas was featured as one of the top players of his tennis team in a local Bakersfield newspaper article, which was both a surprising honor and a precious keepsake! Winning the Valley Championship in California was a particular highlight for Lukas, as well as his teammates!
Although sports played an important role in Lukas's exchange experience, what he treasured most was the warm welcome he received from both his host family and his school.
"I  was so surprised by the positive feelings that the school and host family had for me, even from the beginning. They treated me as though I had been with them since I was a little baby, like I truly belonged. It was very special for me."
In the end, Lukas shares that his athletic successes are the secondary victory in his exchange year, and that the relationship with his host family, Steven and Melissa Bloemhof, will always take "first place" in his heart.
When asked, "What would you like to say to your host family," he shared –
"Thank you for letting somebody like me live with you! You are such an amazing family. I think the whole family with all your aunts, uncles, cousins, and everybody is just incredible. Thank you for the best five months of my life!"
Could you imagine welcoming a student like Lukas into your daily lives? We'd love to share more with you! Visit ie-usa.org.