Host parents Steve and Lynn Franko of Vassar, Michigan share their story of hosting a Spanish student named Javier – a decision that quite literally changed the course of their lives!
---
Deciding to become IE host parents was not something we ever thought of doing at this time in our lives! We had considered hosting an exchange student years ago when our own children were in school, but having a smaller home with just one bathroom, we decided it would be too crowded.
Fortunately, the opportunity to host came up all of a sudden last August. My wife was visiting the high school near the beginning of the school year, and she met the local IE coordinator who told her she had a boy from Spain who she wanted to place in the Vassar Schools. My wife told her that she would go home and talk to me…
[perfectpullquote align="full" cite="" link="" color="" class="" size=""]My response was, "No, are you crazy? We are retired and haven't had a teenager in the house for almost 15 years!"[/perfectpullquote]
But after some discussion about it, I said that I would think about it and went out to mow the lawn. Well, I tossed the pros and cons around in my head and mulled it over. The voice in my head said, "Do it!"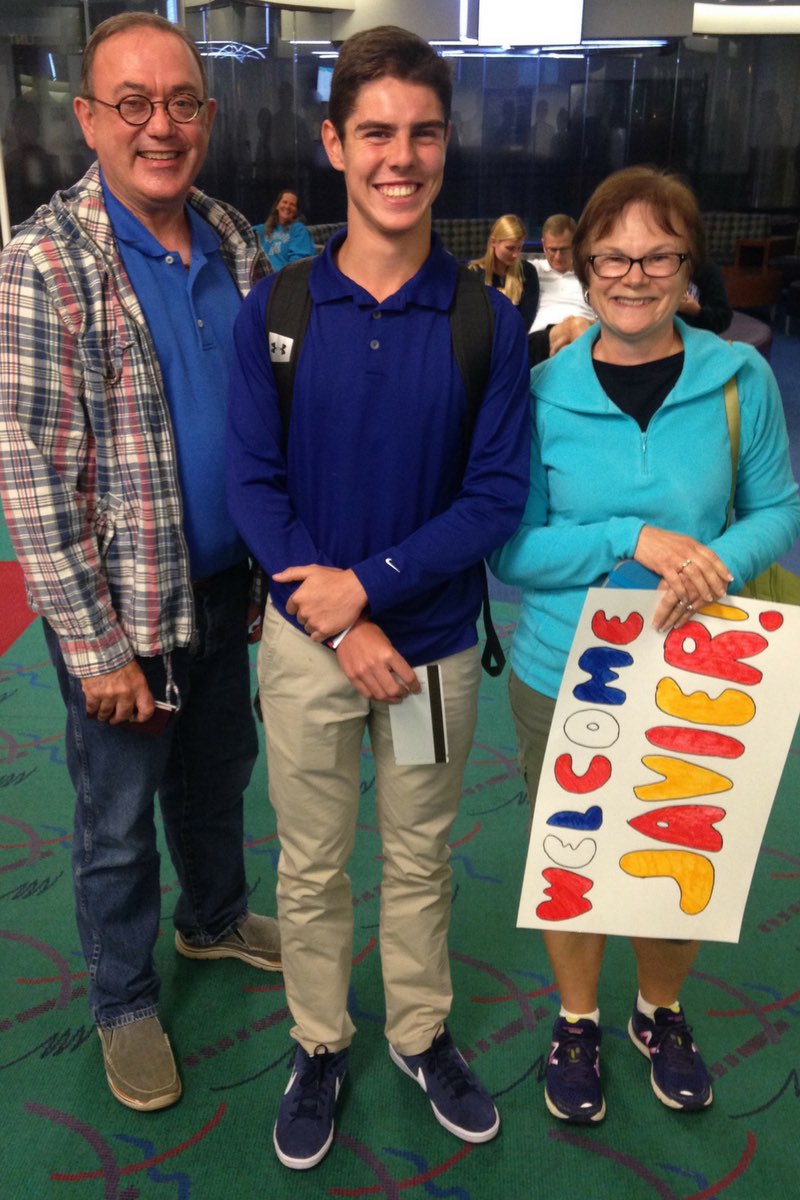 The whirlwind began! This was August 29th and the deadline was August 31st, so we had to act quickly. We filled out paperwork for background checks and IE approval, had an interview with the coordinator, pictures were taken of us and our home, we wrote a letter to Javier, the IE student, and his family, and once approved, cleaned out and redecorated a bedroom for a teenage boy, and did many other things to prepare our home before his arrival on Friday, September 2nd. When we finally talked to Javier and his family via FaceTime, we knew we had made the right decision. We were very excited and also anxious. The night before he arrived we could barely sleep.
It was as if we were expecting our own child!
From the day Javier arrived, it has been an amazing experience! Our relationship has grown so close, it does seem like he is a member of our family. We have shared so many experiences, some wonderfully positive and some that have been learning experiences. Every experience has made the bond between us stronger.
[perfectpullquote align="left" cite="" link="" color="" class="" size=""]His mother has told us on several occasions that we have a Spanish son for the rest of our lives, and we expect that to be true. [/perfectpullquote]
Because this experience has been so wonderfully great, we have decided to host again next year and already have another boy from Spain for the 2017-2018 school year. If you've ever considered hosting a foreign exchange student or are considering it for the first time, I wholeheartedly urge you to do it! The experience is so rewarding and our lives have been enriched in so many ways; from the youthful exuberance of an extremely excited teenager so eager to learn and experience American culture, to the many activities that keep us moving and involved, and to the tremendous bond that develops as you welcome your "new" child and grow together as an international family. You will create memories to last a lifetime, for both you and your IE child.