We talked to Roy Rolin, a 52 year old U.S. Air Force veteran. Roy and his wife Emily have hosted 10 exchange students in the last 9 years!
"They've all been very different in their own way," says Rolin, "and it's given us a unique experience every time." (Pictured below: Roy and Emily goofing around with German student Frauke)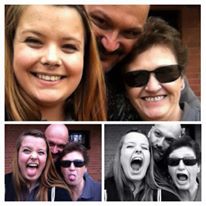 The Rolins, who are patriotic to the core, love sharing American traditions with their students; but they feel they have gained so much more than they've given.
[perfectpullquote align="right" cite="" link="" color="" class="" size=""]"We are building a worldwide family."[/perfectpullquote]
Being a host dad has given Rolin the opportunity to fill much-needed support roles for his students. He discovered the joy in becoming a true father-figure for a German girl whose dad had passed away when she was only 7. He embraced the role of mentor for a Swiss boy who nervously anticipated his own (compulsory) military service upon his return home. And he relished the surprise of a lifetime when a previous exchange student, their Colombian "son," appeared unannounced in his living room for a surprise visit.
"We are building a worldwide family," says Rolin, whose students have come from 8 different countries including Korea, China, Italy, Colombia, Brazil, Germany, Switzerland, and England.
The exchange year is a fun adventure, but the Rolins have found that the role of host parent doesn't end there. As evidence of their continuing parenthood, participated in their Italian "son's" wedding in Septemberof 2015.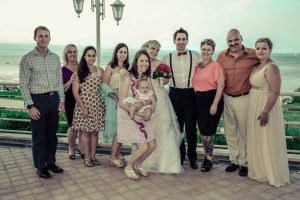 "Instead of a honeymoon, they took us, together with their natural parents, on a week-long tour of Italy," boasts Rolin. "We've gained so much more through hosting these students than we could ever have given them."
Are you ready to share YOUR America with a student? Find out where a journey in student exchange can take you!
Take the first step by visiting iE-USA.org!